Due to the major success of the renowned online video slot game Sweet Bonanza, its developers from Pragmatic Play created a spin-off version. Check out this comprehensive review to find out everything about it!
Sweet Bonanza Xmas Overview
In the following sections, you will find out every detail you need to succeed when playing Sweet Bonanza Xmas. If you are still undecided whether this slot is worth your time and attention, this review is all you need to make up your mind.
Game Details
This reboot of the original was released in November of 2019. Like the original, Sweet Bonanza Xmas is also a 6-Reel-All-Ways-Win machine with a Tumble Feature and Free Spins round.
Name
Sweet Bonanza Xmas
Provider
Pragmatic Play
Type
Viseo Slots
RTP
96,51%
Max. Win
21,175x
Volatility
High
Min. bet $, €, £
0,20
Max. bet $, €, £
125,00
Features
Tumble Feature,
Free Spins Feature,
Ante Bet Feature,
Bonus Buy Option

Autoplay
Yes
Progressive jackpot
No
Lines
20
Reels x Rows
6 x 5
Platforms
Desktop, Tablet,
Smartphone
Release Date
Nov 28, 2019
Theme and Graphics
If you have ever played the original version of Sweet Bonanza, you will know that the slot machine's main concept is of a sugary paradise. The symbols on the slot machine's reels are sweet treats in the form of colorful candies and juicy-looking fruits. There is a cartoony and almost child-like whimsy to the game, and the graphics have a 3D effect. However, due to Sweet Bonanza Xmas being the Christmas version, developers have taken this original concept and revamped it with a seasonal twist.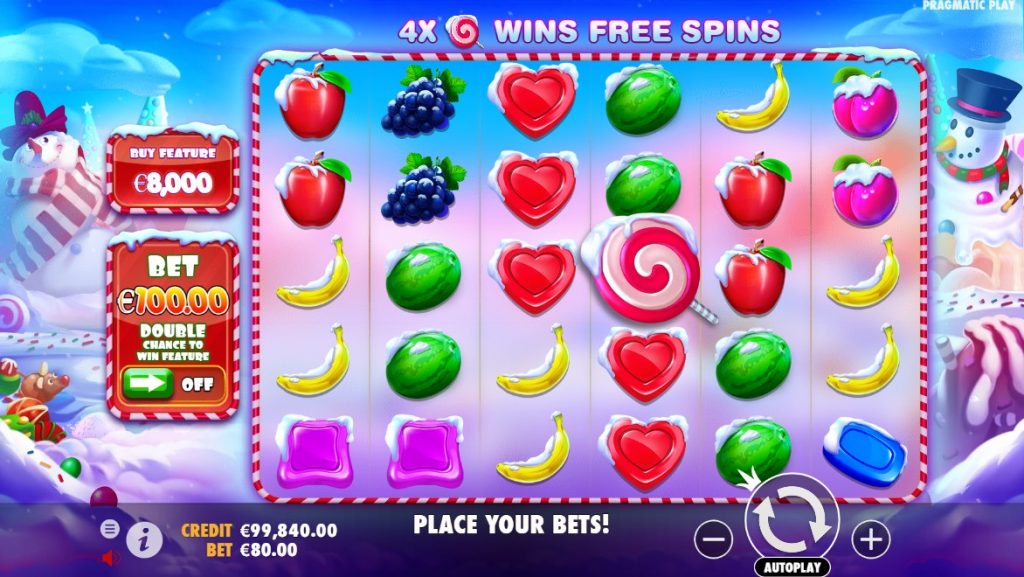 Sweet Bonanza and Sweet Bonanza Xmas – What's the Difference
Sweet Bonanza Xmas does not stray very far from its predecessor, as pretty much all the mechanics are identical. The main differences that Sweet Bonanza Xmas has with the first instalment of Sweet Bonanza are the festive overhauls made to the graphics and music. The background music and backdrop theme are given a holiday season makeover. Every so often, you will hear the jolly laughter of our favorite gift-giving-chimney-climbing sleigh rider interject the classic Sweet Bonanza soundtrack. It's a Santa Claus remix, people!
From the title screen, you can see that all the candies and fruits are adorably powdered with white fluffy snow. There are also some cute snowmen watching and silently cheering you on either side of the slot machine!
The most notable changes can be seen during the Free Spins round:
When a Free Spins round is triggered, a few bars of jingle bells will play.
Jingle bells will also play when extra free spins are won from obtaining 3 scatter symbols during the bonus round.
Sleighbell background music throughout the bonus round.
The screen frosts up with snow instead of lollipops.
The rainbow bomb bonus multipliers are replaced with golden bombs that resemble Christmas tree baubles.
About Pragmatic Play
Pragmatic Play is a big name in the gambling industry, being available in over 20 countries. Their eclectic portfolio of innovative, well-regulated, and mobile-friendly products is unrivaled in the entertainment they provide. Although Pragmatic Play is a relatively new company, founded only in 2015, its reputation has grown rapidly. Their name is synonymous with the guarantee of reliability, fast delivery, and customizability.
Their content spans a wide variety of games, including slots, live casino, bingo, and more. There is something bound to tickle your fancy.
Sweet Bonanza Xmas Slot Demo Play
The Sweet Bonanza Xmas slot demo version is available to play for free. Yes, you heard right. You can try the slot machine using readily loaded game credit to test it out and get a feel for the game. The Sweet Bonanza Xmas slot free play can be found on many websites, but the most reliable would be, of course, on the Pragmatic Play official website. Here, you can try Sweet Bonanza Xmas without download or registration necessary.
The mechanics and programmed randomness of the Sweet Bonanza Xmas demo play are exactly the same as the real money version. This would be handy if you would prefer to get a handle on the game before investing your hard-earned cash into it.
Best Casinos To Play Sweet Bonanza Xmas Slot For Real Money
You can play Sweet Bonanza Xmas on a variety of online casinos. Some reputable places to feature Sweet Bonanza Xmas slots are:
GunsBet Casino
Loki
Spin Samurai
Divas Luck
24Monaco
Cobra Spins
FastPay
How to Play the Video Slot
Playing the Sweet Bonanza Xmas slot is a true pleasure. It is guaranteed it will put you in a festive winter mood, no matter the season!
Adjust the Betting Limit
The betting limit can be adjusted by first clicking onto the button with three lines found on the screen's lower-left corner. This will bring up a settings menu with various options. On the left side of the menu, you will see the option to toggle with the total bet amount. You will see other miscellaneous game settings on the right side of the menu to customize your gaming experience. Players can change settings such as turning on and off the background music, sound effects, or adjusting spin speed to suit their preferences.
Set the Auto-Play Mode
You may find the autoplay feature at the bottom right corner of the screen. Once clicked, the autoplay settings menu will appear. Here you will be given choices to alter the speed of the reels during autoplay mode and choose the number of spins you wish to autoplay.
View the Paytable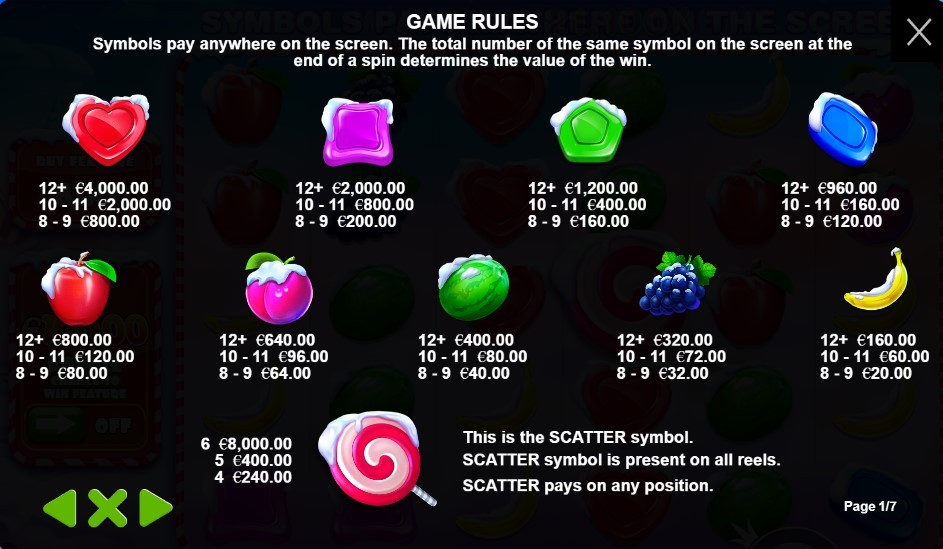 By pressing the "i" button located at the bottom left corner of the game screen, you will be given a pop-up window. Information about the gameplay of Sweet Bonanza Xmas Pragmatic Play has supplied can be found here. This includes the paytable, where the payouts of all the symbols for different combinations are listed.
Set Your Stop/Start Limits
When accessing the autoplay settings menu, you will see a slider tool. This slider tool can set the number of spins you would like to autoplay for the session. The number of spins selected for autoplay will be displayed on the right side of the slider (from 10 to 1000).
In alternate editions of the game, you are also given additional options to stop the autoplay when:
the Free Spins round started.
a single win exceeds the amount determined in advance.
coins have increased or decreased by a certain amount.
Decide on a Session Budget
Set the session budget by pressing the "+" or "-" buttons on either side of the play button. This will bring up another pop-up settings menu where you can toggle with the amount you would like to bet per spin. Higher bets will yield a higher return. So, if you are a risk-taker or you have an inkling that lady luck is on your side, this could see a potentially quicker and more profitable return.
Play and Win
Once you have optimized your auto spin settings to your liking, press the green "start autoplay" button on the bottom of the autoplay settings menu to begin the auto spin. The reels will start to spin on their own—time to sit back and watch the action before your eyes. When the number of set spins has been completed, all reels will cease spinning immediately.
As an alternative, you may wish to activate each spin manually. You can do this in two ways:
by clicking the play button on the screen with the mouse
by using either the space or the enter buttons on your keyboard
Sweet Bonanza Xmas Slot Game Setup and Payable
As you saw from the paytable, in-game candies give a higher payout than fruits. The highest paying symbol on the board is the heart candy, with a minimum payout of 200 if 8 or 9 heart candies appear in one spin and a maximum payout of 1000 when 12 or more appear. The lowest paying symbol is the banana, with a minimum payout of 5 if 8 or 9 heart bananas appear in one spin and a maximum payout of 40 when 12 or more appear.
Special Features of Sweet Bonanza Xmas Christmas Slots
Christmas is the season of magic, and Sweet Bonanza's Xmas edition is yet another proof. Check out all the yummy bonus features this slot game offers!
The Ante Bet Option
The ante bet option gives the player different special added features to the gameplay depending on the multiplier chosen. These are:
Bet multiplier 25x – players will have twice the chances of winning free spins. This is because more SCATTER symbols are added to the reels. Sadly, the ability to purchase Free Spins Rounds will be removed. Stakes range from 0.25 coins to 125 coins (or equivalently 25p to £125).
Bet multiplier 20x – players can purchase a Free Spins Round for 100x the total bet. Stakes range from 0.2 coins to 100 coins (Or equivalently 20p to £100).
The Bonus Buy Option
You don't need luck when you can make your own luck! The Sweet Bonanza Xmas bonus buy option allows the purchase of a Free Spins Round that will instantly begin after buying it. This gamble could pay off as the Free Spin Round gives a real possibility to win big money. Players could potentially win back the cost to buy the feature and then some.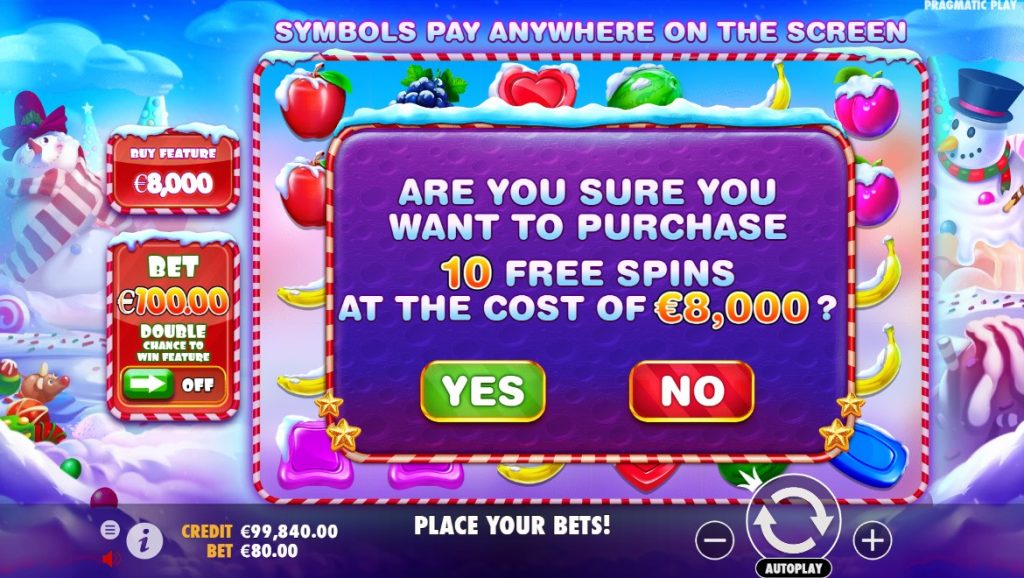 The buy-in for the Free Spins Round is 100 times the total bet amount you set per spin. Thus, the more you bet, the more expensive the buy-in is set. To buy-in for the Free Spins Round, go to the left side of the screen labeled "Buy Feature." As the bet amount increases and decreases, so will the price of purchase for the feature.
Due to gambling regulations and restrictions, the bonus buy option may not be available to all players.
The Tumble Feature
The tumble feature – also commonly known as cascading reels – makes things even more interesting. The tumbling kicks in once winning combinations have been spun. As these winning combinations disappear from the screen, the remaining symbols drop down, and more symbols drop down from above to take their place.
The Free Spins Feature
When 4 or more SCATTER symbols (that's lollipops) land anywhere after a spin, the Sweet Bonanza free spins feature is activated. You start the Free Spins Round off with 10 free spins.
Exclusive to the Free Spins round, a special multiplier symbol may appear. This special multiplier symbol remains on the screen until the end of the tumble feature. In the Sweet Bonanza Xmas Christmas slot, the special multiplier is a golden bomb reminiscent of a bauble. When this golden bomb lands on the screen during a Free Spin Round, it will have a random value between 2x – 100x written on it.
As soon as the tumble feature is over, all multiplier values on the screen are accumulated. The total sum of all multiplier values is used to multiply the total winnings gained from that spin. The product of these two values will equate to the final payout amount. Take note that multipliers are only available when the Free Spins round is in effect.
Five extra free spins are automatically awarded every time a spin hits 3 or more lollipop symbols during the Free Spins round. For every spin, the amount won is first shown at the top of the slot machine. The amount is then added to your total win counter found at the bottom of the slot machine. This win counter will keep track of all winnings during the Free Spins round, adding to the suspense and excitement. Will you or won't you exceed the feature buy-in?
When all your free spins are used, a pop-up window will appear that shows you how much you won in total and how many spins were used during the entire Free Spins round.
Available Bonuses and Promotions
There are no other bonuses within the game itself other than those during the Free Spins Round. But there are potential big bucks to be won with multipliers during the Free Spins Round. Multipliers take the appearance of golden bombs that resemble Christmas tree baubles. Once on the screen, these golden bomb multipliers will take equal an amount between 2 and 100 and disappear when the tumbling feature is done that spin. The sum of all values shown on the multipliers is then used to multiply the total winnings earned during that entire spin. For example, the screenshot below shows a total tumble win of 300 coins. There are golden bomb multipliers of 25x and 4x on the screen. Therefore, total winnings for that spin is (25 +4) x 300 = 8700 coins.
Every time a spin gives a big win, a celebratory pop-up graphic appears, as the money count steadily increases to your total win amount for that spin!
There are currently no bonuses or promotions for Sweet Bonanza Xmas from Pragmatic Play either. But many online casinos that feature Sweet Bonanza Xmas have their own bonuses and promotions for free spins and real money bonuses. These are often in the form of an introductory offer for new signups after they make their first deposit. These bonuses can be used to play Sweet Bonanza Xmas.
How to Win the Sweet Bonanza Xmas Slot Game
Sweet Bonanza Xmas, just like its prequel, is an all-ways win slot machine. This means that there aren't any payline restrictions of any kind. As long as enough of the same symbols land ANYWHERE on the screen – YOU WIN! The minimum number for a winning combination is 8 matching symbols. Thanks to the tumble feature, it is possible to have 8 or more matching symbols multiple times in one spin. More matching symbols mean a higher payout, and multiple payouts are possible for multiple matching symbols!
While all slot games are essentially random, there are no definite ways to win every time. Sweet Bonanza Xmas is programmed using a random number generator (RNG). This ensures an unbiased and entirely randomized system that is completely unpredictable and is impervious to manipulation of any kind.
However, that is not to say there aren't strategies you could adopt to maximize winnings. By examining the features and mechanics of any slot machine, you can devise a way to take advantage of them. Consequently, you will be able to optimize your gameplay.
It is a good idea to try the free demo version of Sweet Bonanza Xmas first before breaking the bank; while gathering the data and observations, you need to formulate an optimal strategy. Pay close attention to:
how often wins occur
how many spins it takes
size of winnings
Get a real sense of what the volatility and RTP are like in action. You will need to play hundreds, if not thousands, of rounds to get a good feel of the machine. And so, this is why the free demo version comes in handy; you can do your test trials without using any real money. At the end of your trial runs, you should be able to ascertain the lowest risk for the highest reward that you feel most comfortable with.
As we have well established by now, the big bucks come in during the Free Spins Round on the Sweet Bonanza Xmas slot. This implies that the more optimal strategy would be to ante up with the 20x bet multiplier to keep the ability to purchase the Free Spins round. If, instead, you opted for the 25x bet multiplier – even with an increased chance of triggering the Free Spins round, you could be spinning for a very long time until you get those almighty 4+ Scatter symbols. This could lead to you spending a lot more than 100x your current bet – the price to buy the Free Spins feature.
Thanks to the multipliers that pop up during the Free Spins round, there's a much higher chance to earn back the buy-in price and then some!
Sweet Bonanza Xmas RTP, Details, and Wager Limits
RTP stands for Return to Player. This is the average expected winnings. The Sweet Bonanza Xmas RTP is higher than the average online slot machine.
The maximum RTP of the game is 96.51%
The minimum RTP of the game is 96.48%
The game's volatility is stated to be in the medium range by Pragmatic Play for Sweet Bonanza Xmas. This means that winnings are statistically likely to occur in a moderate frequency. The size of winnings dispensed will vary and could be low, high, or anything in between.
Mobile Version of The Game
When you try Sweet Bonanza Xmas, you most likely won't want to stop. Luckily, you don't have to, because you can bring your favorite game with you wherever you go!
Devices You Can Use
Pragmatic Play developed Sweet Bonanza Xmas using HTML5 technology. This means it can be played using all modern mobile devices and computers. The system specifications required to run Sweet Bonanza Xmas are pretty basic, so all recent computers should experience no problems.
Fully updated, commonly used browsers are all equipped to handle Sweet Bonanza Xmas. Recommended browsers for the best game performance include:
Chrome
Firefox
Opera
Microsoft Edge (Internet Explorer 10 or above)
For smooth performance on Android and iOS smartphones, Sweet Bonanza Xmas can be played using the above browsers and the standard Samsung Browser for Samsun phones or Safari for iPhones. The game's functions are touch screen adapted, and the game can be displayed in either landscape or portrait mode.
The same browsers mentioned for smartphones can also be used to play Sweet Bonanza Xmas on tablets.
How to Play at Mobile Casino
Want to satisfy your craving for Sweet Bonanza Xmas on the move? Settle that sweet tooth by playing on your mobile devices. Most casinos have seamless integration on both mobile and tablet devices, giving players the option to play on the go. No app downloads or installations are necessary as you play straight from the browser. Play directly by accessing your usual accounts on any of the following online casinos:
GunsBet Casino
Loki
Spin Samurai
Divas Luck
24Monaco
Cobra Spins
FastPay
All the game features have full touch screen functionality and can be activated by simply tapping and swiping.
Sweet Bonanza Xmas Max Win and Jackpots
The minimum stake is 20p, and the maximum stake is £10.
Unlike many other slot machines, Sweet Bonanza Xmas, unfortunately, does not have a jackpot. But they do make up for this with a maximum payout of £250,000!
Similar Games
Other slots with a candy theme are:
Chocolate Slot (Big Time Gaming)
Sweet Alchemy (Play'N'GO)
Sweet Bonanza (Pragmatic Play)
Donut Slot (Big Time Gaming)
Sweet Bonanza Xmas Slot Hits and Misses
The Hits of Sweet Bonanza Xmas slot are:
Bonus rounds with multipliers of up to 100x.
Visual appeal, colorful with a fun theme and special effects.
Tumble feature, which allows for more chances to win per spin.
A possible 21,175x total bet.
The Misses of Sweet Bonanza Xmas slot are:
Gameplay may be a little confusing, especially to casual players or those unfamiliar with slot machines.
Big wins are usually only gained during the Free Spins Bonus Round.
Sweet Bonanza Xmas Review Final Verdict
This Sweet Bonanza Xmas slot review has highlighted the game's hits and misses and examined the gameplay itself. The simplicity of gameplay and charming graphics make it an appealing choice for many slot players. But do not allow yourself to be deceived by the cute visuals; there is a very real and substantial potential payout to be won on this video slot machine. High rollers will undoubtedly find it enticing with high stakes reaching a bet of £10 a spin that could see them win 21,175x that initial bet.
Since the best chances of winning big are during Free Spins Rounds, it is extra tempting for players who want to jump straight into the bonus round by opting to buy the feature and have it start instantly. During the Free Spins Round, potentially lucrative bonus multipliers of up to 100x can appear. Buy-in for a Free Spins Round can be as high as £10,000, but with high risk comes possibly high rewards.
Sadly, the fact that some players in certain geo-locations do not have this option may be a sign that Sweet Bonanza is not the best option for them if they are looking for a slot machine to win big.
The tumble feature not only allows for more opportunities to increase winnings in a single spin but the suspense and tension this feature creates as you watch symbols disappear. New symbols drop in to replace empty spaces is enthralling gameplay.
The convenience and accessibility of Sweet Bonanza Xmas across all desktop, mobile, and tablet devices also make the game very attractive.
Having the betting range is as low as 20p to as high as £100 gives Sweet Bonanza Xmas a wide appeal. Both low-stakes and high-stakes players will be able to enjoy this game.
All in all, it is not hard to understand why slot lovers all over have been reeled into Sweet Bonanza Xmas! Though it is important to note that players should always gamble responsibly. Set aside a strict and realistic budget when you begin. This way, you'll know when you have lost enough and take a break from spinning. Also, know when to walk away when you have won enough to make the experience a positive and enjoyable one. Perhaps you could win just enough to have a very Merry Sweet Bonanza Xmas!
FAQ
What Is Sweet Bonanza Xmas Slot?

What's the Difference Between Sweet Bonanza and Sweet Bonanza Xmas?

Who Are the Developers of Sweet Bonanza Xmas?

Where Can I Play Sweet Bonanza Xmas Slot for Real Money?

How to Play Sweet Bonanza Xmas?

What Are the Special Features of Sweet Bonanza Xmas?

Are There Any Available Bonuses and Promotions for Sweet Bonanza Xmas?